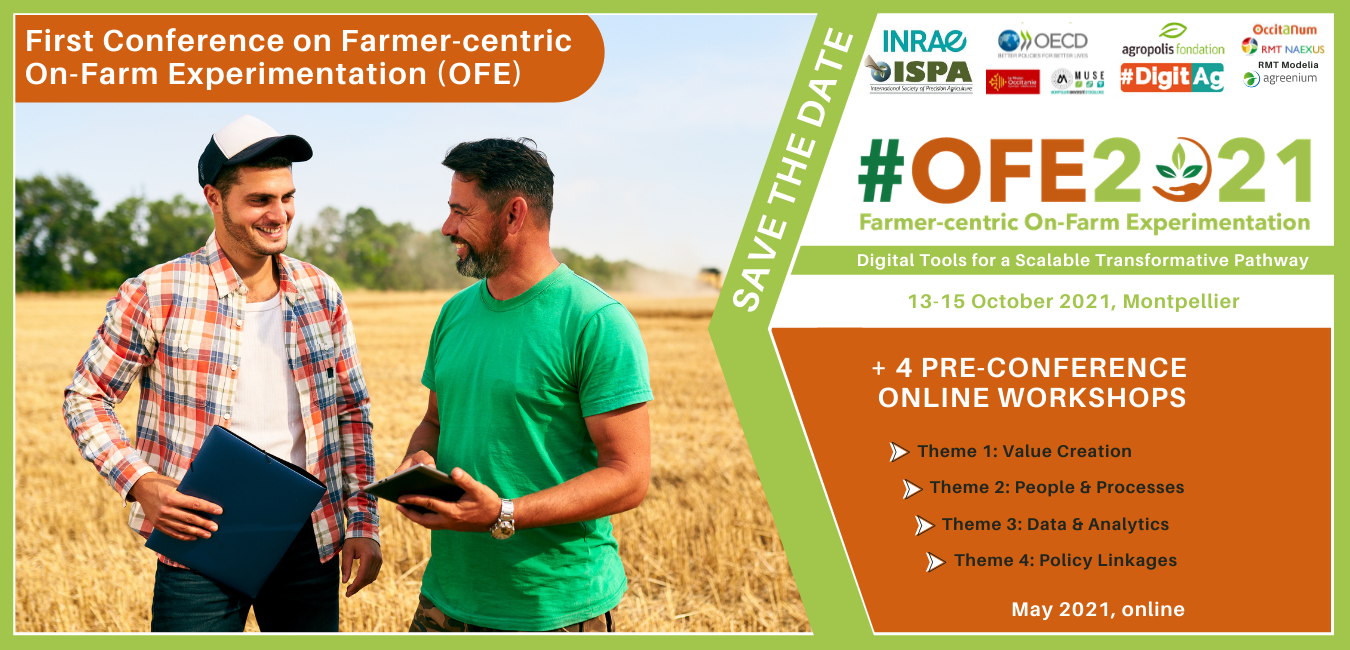 Organised by INRAE-#DigitAg, and the ISPA OFE-C (Int. Society of Precision Agriculture, On-Farm Experimentation Community)
Sponsored by the OECD, the Agropolis Fondation, #DigitAg, the Occitanie region,  and Montpellier University of Excellence, Occitanum, Agreenium, RMT Modelia and RMT NAEXUS, INRAE (départements MathNum & AgroEcosystem)
Can we innovate differently in agriculture, by bringing together practitioners and researchers?
Farmer-centric On-Farm Experimentation (OFE) is gaining interest worldwide as a practical mechanism to bridge formal and informal knowledge by embedding research into real-world farm management. A particularly promising avenue for OFE is to use digital technologies to document and support the agro-ecological transition, paving the way to transformational change in agricultural research and innovation.
What is OFE ? Find here the 2-page introduction: view online or download the PDF
This conference will provide practitioners and theoreticians with the opportunity to:
– share their global experience of OFE as an innovation pathway
– contribute their insights to explain OFE processes and develop the OFE sciences
– suggest recommendations and guidelines to support OFE implementation and institutionalisation
The #OFE2021 conference outputs will include a OECD-supported report bringing together the lessons learned and the implications for policy linkages, and a book or special issue in an international journal based on the conference proceedings (presentations and posters). The conference was preceded by 4 preparatory webinars in May 2021 based on the 4 themes of the plenary:
Value creation: Monday 10th
People and processes: Wednesday 12th
Data and analytics: Monday 17th
Policy linkages: Wednesday 19th
15h-17h Paris
Subscribe to the Conference News for updates 
Poster session: pre-submission is OPEN – Submit your 150-word abstract here
Key dates
– Pre-conference webinars: May 2021 (10th, 12th, 17, 19th), 2-hour webinars preparing the 4 themes
– Poster abstracts pre-submission deadline: 15th of June 2021 (150-word abstract)
– Poster selection: 1st of July 2021
– Poster submission deadline: 15th of September 2021
– Conference plenary: 13th and 14th of October 2021 (Covid-19 contingencies will be in place)
– Conference focus group and field tour: 15th of October 2021
Contact
ofe2021@inrae.fr
Convenors
Dr. Véronique Bellon Maurel, INRAE, Director of #DigitAg, France

Dr. Nicolas Tremblay, International Society of Precision Agriculture (ISPA), Canada

Prof. Simon Cook, Murdoch University, Centre for Digital Agriculture, Australia